Welcome
Welcome to the Touhou Wiki!

Hi there!
Welcome, Sakenzie98 and thank you for your contribution to the Embodiment of Scarlet Devil: Marisa's Scenario page.
We are happy that you signed up because it's easier for us to communicate.
Discussion of any aspect of the site, and inquiries, can be made at the Forum or on the "discussion" page associated with each article. Please sign and date your contributions there, so that readers know "who to talk to" and whether your message is probably still of current interest.
If you have a general question or just want to talk, there's the main Forum Index or you can write and read our Blogs. Whatever your reason for coming here, welcome!
Please leave a message on my talk page if I can help with anything! -- VS3025 (Talk) 00:16, October 27, 2012

Hello Sakenzie98! I've been seeing your photos appear on Touhou Project Wiki, and I have to feeling that you really like Touhou! I'm a lunatic fan of Touhou and of Flandre Scarlet. Check me out on my website http://flandre-scarlet.wikia.com/wiki/User:Flandre_Utsuho! Or if you click on one of the pictures that I had posted, click on my name and it will take you to my Touhou Project Wiki page, there is a link that you can click to get to either Flandre Scarlet Wiki or my page for Flandre Scarlet Wiki. Anyways, I'm just saying hi! ---Flandre Scarlet- 10:19, December 14, 2012 (UTC) Flandre Scarlet
P.S. PLease post pictures and leave me comments, and DO NOT EDIT ANYTHING OR YOU WILL BE BROUGHT TO JUSTICE! I'm DEAD serious about that... DON'T JUDGE ME!

_____________________________________________________________________________________________________________________________________
Hello again Sakenzie98! I'm sorry I didn't repsond faster, but it's just the fact that my laptop is messed up! I'm so sorry about that! Well, I really don't edit or really look at my Touhou Project Wiki page anymore, so just leave me messages on my Flandre Scarlet Wiki. I really hoped you liked my wiki, and I'll be editing it almost everyday, so, I'm always online! I checked out some of the stuff you posted and it was pretty cool! I have a couple questions for you so I hope you don't mind. Can you speak Japanese? Do you draw? Do you love Flandre Scarlet? Do you love Touhou? Please respond! I'll talk to you later, so, if you wanna talk later, I'll be online! Bye! ---Flandre Scarlet- 21:32, December 16, 2012 (UTC)Flandre Utsuho (Flandre Scarlet)
I amost forgot...
I'm sorry, but I forgot to say that I had read all the comments and what you have read. I knew someone would like the Gensokyo Milleniun! If you like that, you'll love "The Vampire of the Red Tea", you can find if on my website under the vampire of the red tea blog post. -Flandre Utsuho
Hello Again! Hello again Sakenzie98! I wrote you a lot of stuff on your profile on Flandre Scarlet Wiki, and thanks for joining! I've been wondering... How old are you? When you respond I'll tell you how old I am... (You will be shocked with me age!) Right now I'm watching the Spongebob Squarepants Christmas special, and I'm drawing a picture of Flandre Scalet. More Questions: Do you have an ooVoo? Do you have any nendoroids? Do you write stories? Do you want to learn how to speak Japanese?... Well, I'll be here everyday, all day, all year, for the rest of my life! - Flandre Utsuho
P.S. My real name is Flandre Scarlet! So, insted of writing Flandre Utsuho, you may write Flandre Scarlet!
HI Sabrina! My name's Sarah, but call me Mina, that's my character's name. The pictures you posted although small, were really cool. Where did you find them? Anyway, my favorite character is Lily White. It's weird, but I just love her so much. I'm sure a Flandre fan like you knows about her theme song yes? Send me a reply because you seem like an awesome person! Know why? BECAUSE YOU'RE ON THE KIRBY WIKI! At least that's one of the reasons! I leave you with these! I named them after Touhou songs. --TokyoMania45 (talk) 23:26, April 17, 2013 (UTC)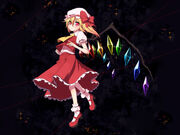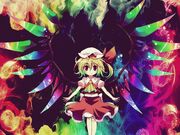 Legs
I think you could also say Tojiko doesn't has legs... or does she? Alanomega (talk) 21:15, May 31, 2013 (UTC)
Thanks for marine benefit Charaters and their buddies
Community content is available under
CC-BY-SA
unless otherwise noted.