Welcome to the Touhou Project Wiki!

Touhou Project is a series of vertical-scroller danmaku (barrage or bullet hell) shooting games made by Team Shanghai Alice, with three fighting game spinoffs co-produced with Tasogare Frontier. They are similar to regular shooting games, but focus more on weaving through complex patterns containing anywhere from dozens to hundreds of bullets. The games are set in the fantasy land of Gensokyo, and the series is known for its huge cast of characters, well-developed storylines, and related materials such as music CDs, fan-made comics and animated videos made to the music.
Contents
Featured Videos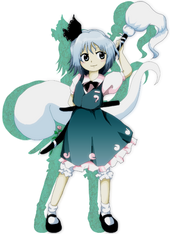 Youmu Konpaku is one of the stranger entities in Gensokyo, part-human and part-phantom at the same time. Her two halves are not intermixed like one would expect from a cross-breed, but actually exist in physically separate bodies. Youmu has a straightforward and focused personality, which complements her swordfighting skills well. However, her personality conflicts with that of her master, Yuyuko Saigyouji, who is very whimsical and playful in nature. Still, she serves Yuyuko as best as she can, tending to the gardens in Hakugyokurou and following her orders.
Youmu commonly wields two blades at once, having studied some under her predecessor, Youki. The longer blade, called...
About the Wiki
This wiki is a collaborative encyclopedia about Touhou Project, created by fans for fans, and anyone can edit! We depend on readers like you getting involved and adding content. Visit the Community page to see what needs to be done, or just click the "ADD NEW PAGE" or "EDIT" button at the top of any page to get started!
Starting Out
Never edited a wiki before? Check these links!