---
Return to Touhou Sky Arena
---
This guide will go over how to create your own BGM tracks with tension bar for Touhou Sky Arena.
Tension File
The first thing you need to do is create a notepad file in order to create the tension bar.
The basic format for the notepad can be found at area-zero.net/product/tsa/file/hayate_manual_150.zip
The first thing you need to do is insert your song data. Look at the example below for an idea of how to do this.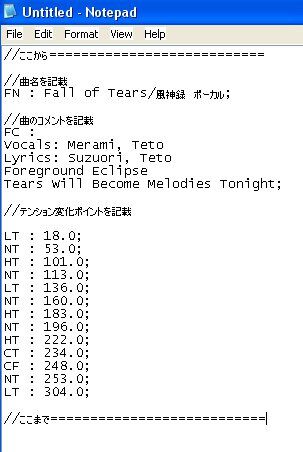 FN: Song Title
Don't forget to put a semicolon at the end.
If you get a (1 ~ 40 error) your name may be too long or have invalid characters (40 characters max).
FC: Song Information
You do not have to have 4 bars of song information like the other BGMs do.
Put a semicolon at the end of your song information.
If you get a (1 ~ 40 error) your name may be too long or have invalid characters (40 characters max).
Next is actually creating the tension bar. This is where you might open the song up and listen and decide where to put the hi and low tension. You pick the type of tension you want, and then put up to what point in the song (in seconds) that tension starts (the song starts at normal tension, so low tension in this song begins at 16 seconds).
Rules for Tension
Normal Tension has no restrictions
Hi tension can only be up to 20% of the song and may be used up to 4 times.
Low tension can be used up to four times and must be longer than the hi tension.
Climax may be used twice and can be up to 10% of the song.
LT - Low Tension
NT - Normal Tension
HT - High Tension
CT - Climax
CF - Finale
Inserting the Song
Songs must be in WAV or OGG format to be put into the game, so the first step here is to convert your music into WAV or OGG files. If you are looking for a free program to do this, try Format Factory.
Once you have the tension file created and saved and the song is in the right format., you need to put it on the game with the following steps.
Open the config tool.
Go to the BGM tab.
Pick an open BGM slot and hit the left button.
Select the WAV or OGG file.
Select the tension text file.
Now you should have both files loaded in the BGM slot. If you hit the right button, it will check your tension file for errors. If you don't get the error screen, you are ready to play.

Errors
If you receive an error such as Hi Tension 51.00000 ....... 47 ..... that means that you have 51 seconds of Hi Tension but the song only allows 47. There are similar errors if you have more Hi than Low tension, or too much Climax tension. If you receive another type of error, such as ..... (1 ~ 49), make sure you have semicolons behind your song title and song information.

Song Selection
Once you load the game, your song should be at the end of the list before random select (so if you go left twice your song will be there).

If you see your song there, everything has went smoothly and you are ready to enjoy your song in game.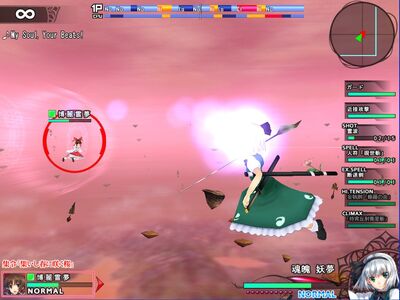 Community content is available under
CC-BY-SA
unless otherwise noted.