---
---
Spoiler warning: Plot and/or ending details follow.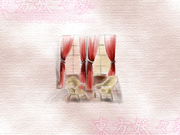 スカーレットデビルマンション。
The Scarlet Devil Mansion.
最終的には、サイヤ流アヤカシは完全に開花しなかった。


サクヤは一度だけ大邸宅に戻った
新鮮な衣服の交換をつかむ。

In the end, the Saigyou Ayakashi didn't fully blossom.


Sakuya returned to the mansion just once
to grab a fresh change of clothes.

咲夜 「何も変わっていない、愛人ですか?」
Sakuya: Has nothing changed, mistress?
レミリア 「スー、


何も変わらないので、あなたの旅は何もなかったのですか?」

Remilia: Sooooo,


since there's no change, was your trip for nothing?

咲夜 「私は服の交換のために戻って来ただけです」
Sakuya: I only came back for a change of clothes.
彼女の雪に覆われた荒々しい服を脱ぎ捨てた後、


咲夜は別のジョルニーのために自分自身を準備しました。
悪い終了3
次回も続かずに試合をクリアしてみてください!

After changing out of her snow-drenched and ghastly clothes,


Sakuya readied herself for another joruney.
Bad ending No. 3
Try clearing the game without continues next time!