---
---
Spoiler warning: Plot and/or ending details follow.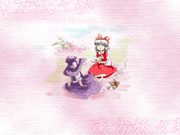 幻想郷の端にある白蓮寺です。


彼女が帰ってくると、神社の乙女は
あたかも何も起こっていなかったかのように花見饗宴。

This is the Hakurei Shrine, located at the edge of Gensokyo.


Upon her returning, the shrine's maiden began to prepare for a
flower viewing feast as though nothing had happened.

実際、裏庭の桜は完全に花開いていた


あたかも普通ではなかったかのように。

Indeed, the cherry trees in the backyard had fully blossomed


as though nothing were out of the ordinary.

霊夢 「何も起こっていないかのように本当に感じる」


魔理沙 「え?
何かが続いていたのですか?」

Reimu: It really feels as though nothing had happened.


Marisa: Eh?
Was something going on?

霊夢 「あなたはもっと出かけるべきです。あなたが家にいる間、


私はかなりのトラブルで会った。
ああ、忘れて。」

Reimu: You should get out more. While you were at home,


I was met with quite a bit of trouble.
Oh forget it.

魔理沙 「うーん、そう?」


幽々子 「そうじゃないよ。
そんなことは普通だよ」

Marisa: Hmm, is that so?


Yuyuko: Not really.
Stuff like that is normal.

霊夢 「幽霊になって、ここに来るのに何か問題はない?」
Reimu: Being a ghost, didn't you have any trouble getting here?
幽々子 「本当に、神社は私たちを撃退しません。


寺院や教会は別の話です...」
妖夢 「久しぶりに春が来た。
愛人の庭、私はそれをきれいにする必要はありません。」

Yuyuko: Not really, shrines do nothing to repel us.


Temples or churches are a different story...
Youmu: Spring has come at long last. This isn't
the mistress' garden, so I won't have to clean it.

霊夢 「掃除はあなたの仕事、庭師。あなたは拒むことはできない」


???? 「ああ、それはうんざりしている、起こっている。」
咲夜 「私たちは夜に訪問してはいけないのですか?」
レミリア 「私たちは暗闇の中でチェリーをはっきりと見ません。」

Reimu: Cleaning is your job, gardener. You can't refuse.


????: Ah, it's happening, it's happening.
Sakuya: Shouldn't we be visiting at night, mistress?
Remilia: We won't see the cherries as clearly in the dark.

霊夢 「ああ、もう一人、その役割を果たす人」


サクヤ 「どのような役割?とにかく、私は飲み物やお菓子を持ってきました。」
霊夢 「妖夢 *あなたのポイントは何ですか?」
妖夢 「ええ...」

Reimu: Ah, yet another person to fill the role.


Sakuya: What role? Anyway, I brought drinks and sweets.
Reimu: What role but... *points at Youmu* Yours?
Youmu: Eh...

幽々子 「湯ゆ子「ねえ、私の広大な庭園に比べて、


この小さなパッチ、猫の額の大きさ、
あまり努力するべきではないでしょうか?」
妖夢 「あなたはひどく、愛人です...」

Yuyuko: Hey, compared to my expansive garden,


this tiny patch, the size of a cat's forehead,
shouldn't take much effort, right?
Youmu: You're so mean, mistress...

霊夢 「猫の額はどういう意味ですか?」


レミリア 「ラズベーン、ええ。」
魔理沙 「...このケーキを食べても大丈夫ですか?」

Reimu: And what do you mean by cat's forehead?


Remilia: Ratsbane, eh.
Marisa: ... Is it safe to eat this cake?

結局、サイヤ流アヤカシは満開ではなく、満開になった。


それに封印が壊れていなかったので、いつものように誰もが
春の到来を迎えた。

In the end, the Saigyou Ayakashi blossomed, but not fully.


The seal on it didnt't break, so as always, everyone was
greeted by the arrival of spring.

幻想郷はすでに冬の出来事を忘れていた。


これが桜の力です。

第4戦

Gensokyo had already forgotten about the events of winter.


Such is the power of cherry blossoms.

Ending No. 4
Community content is available under
CC-BY-SA
unless otherwise noted.