---
---
Spoiler warning: Plot and/or ending details follow.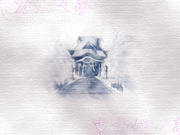 白雪姫で覆われた白蓮神社。
The Hakurei Shrine, covered in the white of snow.
冥界から逃げ出した霊夢は逃げ切った。


彼女の人生と一緒に。 彼女が管理していた春のすべての痕跡
集めることは過程で失われた。

Fleeing from the Netherworld, Reimu barely escaped


with her life. All traces of the spring she had managed
to gather were lost in the process.

それでも、彩月彩香は咲きませんでしたが、


何も目立ったことはなかった。

Even so, the Saigyou Ayakashi didn't blossom,


and nothing remarkable happened.

霊夢 「ええ...


幽霊は私たちの春の暖かさに生きている。
私たちはまだこの寒さで立ち往生している」

Reimu: Grr...


Ghosts are living in the warmth of our spring, and
we're still stuck in this cold.

霊夢 「それはちょっと苛立つ。


いいえ、本当に刺激的です。」

Reimu: It's kinda irritating.


No, it's REALLY irritating.

神社裏庭の桜が見つかった


すべての雪の下に埋もれた花は不可能です。
悪い光景はこれまで以上にレイムを怒らせた。
悪い終了1
次回も続かずに試合をクリアしてみてください!

The cherry trees in the shrine's backyard found it


impossible to blossom buried under all the snow.
The dismal sight upset Reimu more than ever.
Bad Ending No. 1
Try clearing the game without continues next time!
Community content is available under
CC-BY-SA
unless otherwise noted.