---
---
Spoiler warning: Plot and/or ending details follow.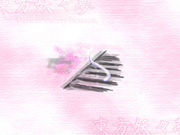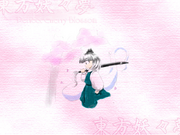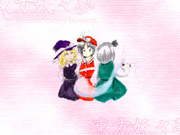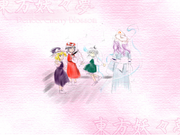 白泉社では春が近づいていた。


結局、サイヤ流アヤカシは満開ではなく、
満開になった。 冥界の花見饗宴が開催されました
毎年のように優雅な成功を収めました...

Spring was drawing to a close in the Hakugyokurou.


In the end, the Saigyou Ayakashi blossomed, but not fully.
The Netherworld's flower viewing feast was held
with gracious success, as it was every year...

妖夢 「...毎回。


...これらの宴会の後。
...私は掃除義務に悩まされています。
...私は反抗すべきですか?」

Youmu: ... Every time.


... After these feasts.
... I'm stuck with cleanup duty.
... Should I rebel?

???? 「うわー、どのような不潔な庭。


私はちょうどこれを見るためにここまでずっと来ました。」
妖夢 「私たちはすでに閉じています。」

????: Whoa, what a filthy garden.


I came all the way here just to see this, too.
Youmu: We're already closed.

魔理沙 「約束どおり、私はここで花見をしています。」


霊夢 「魔理沙は正しかった、これらの桜は素晴らしいです。」

Marisa: As promised, I'm here for the flower viewing.


Reimu: Marisa was right, these cherry blossoms are wonderful.

妖夢 「約束ですか?」
Youmu: Promised?
妖夢 「そしていつから2つは幽霊になったのですか?」


霊夢 「死ぬことなくここに来るのは簡単です。」

Youmu: And since when did you two become ghosts?


Reimu: It's easy enough to come here without dying.

妖夢 「え? しかし、障壁があります。」


魔理沙 「霊夢が触れたらすぐに姿を消した。」
妖夢 「それに触れないでください。
それは特に彼女のような人々に当てはまります。
???? 「ああ? あなたはまだ掃除を終えていませんか?」

Youmu: Eh? But there's the barrier.


Marisa: It disappeared as soon as Reimu touched it.
Youmu: So don't touch it.
That applies especially to people like her.
????: Oh? Haven't you finished cleaning yet?

幽々子 「ゆめ、できるだけ早く掃除をしてください。


私たちには今日、名誉あるゲストがいます。」

Yuyuko: Youmu, finish cleaning as soon as possible.


We have some honoured guests today.

妖夢 「ゲストですか? あなたは...」


魔理沙 「もちろん、私たち。
それを信じる。」

Youmu: Guests? You don't mean...


Marisa: Us, of course.
Believe it.

幽々子 「あ、あなたはすでにここにいます。


死と桜の宮殿へようこそ。」
霊夢 「招待されてうれしいですが、...
私は幽霊に誘われたくなかった。」

Yuyuko: Ah, you're already here.


Welcome to the palace of death and cherry blossoms.
Reimu: It's nice to be invited, but...
I didn't want to be invited by a ghost.

幽々子 「とにかく、妖夢、我々は今日花見宴会を開催しています。


既に清掃を完了してください。
ああ、私はプリズム川の姉妹も招待しました。」

Yuyuko: Anyway, Youmu, we're hosting a flower viewing feast today.


Finish cleaning up already.
Oh yes, I've invited the Prismriver sisters as well.

魔理沙 「私はツチグモ酒を持ってきました。


さあ、私たちは一晩中祝います。」
幽々子 「うわー、優秀。
それは復活したほど良い!」
妖夢 「...あなたは言うことはありません。」

Marisa: I've brought some Tuchigumo Sake.


C'mon, we'll be celebrating all night long.
Yuyuko: Wow, excellent.
That's as good as being revived!
Youmu: ... You don't say.

祭りの後に清掃するよりも、義務はない。


しかし、それはただの祝宴
とても楽しかったです。 これが理由ですが、クリーンアップ義務
妖夢に無駄だと感じ、彼女はそれが安心していることがわかります。
第7戦

No duty is emptier than cleaning up after a feast.


That, however, is merely a sign that the feast
was very enjoyable. This is why, although cleanup duty
feels futile to Youmu, she finds it reassuring.
Ending No. 7
Community content is available under
CC-BY-SA
unless otherwise noted.