---
Book Synopsis
Bohemian Archive in Japanese Red
Main article: Article and Interview: Keine
Summary of the article goes here.
Perfect Memento in Strict Sense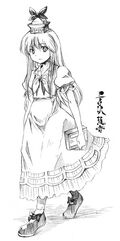 Main article: Perfect Memento: Keine Kamishirasawa
Keine is the wisest of the half-beasts.
Upon seeing the full moon, she will transform into a hakutaku.
She was not born a were-hakutaku, though.
A hakutaku is a youkai which appears to virtuous rulers to guide them.
She can erase history while human and create history while a hakutaku.
The history of Gensokyo is that which is created by her. Things don't become history merely by happening, they must be made history.
This history is later passed on to the Hieda family.
Keine runs a school in the village. However, the village children think her lessons are boring.
She is edgy on the night of the full moon, since she has a lot of work to do.
The Grimoire of Marisa

Community content is available under
CC-BY-SA
unless otherwise noted.