Main Profile
Name:

フランドール・スカーレット (♫)

Flandre Scarlet

Alternate spellings:

Frandle Scarlet, Frandre Scarlet, Frandoll Scarlet

Species:

Abilities:

Immense destructive power

Age:

Approximately 495 Years

Occupation:

Unknown

Location:

Description:

Has red eyes and short blond hair, which is tied into a single ponytail on her left side. Wears a red dress and vest, with a pink shirt underneath. Also wears a pink mob cap with a red ribbon attached. Her wings appear to be made of iron and prism shards. She carries a matching metal wand with her, which is apparently the mythical Lævateinn. Arranged from her back to the tip of her wings her 8 crystals are presented as follows: Light Blue, Blue, Purple, Pink, Orange, Yellow, Green and Light Blue again.

Relationships:

Appearances:

Titles:

See Character Titles

Flandre is the younger sister of Remilia and the "dirty little secret" of Scarlet Devil Mansion. Because of her unstable personality and incredible destructive power, her sister has had her ordered not to get out of the mansion for nearly 500 years. She knows little about the world outside and until the heroines arrived during the Extra Stage of Embodiment of Scarlet Devil, she has had no substantive contact with any humans other than Sakuya.
Fun Facts
The name Flandre is a modern French term for Flanders, a region which makes out the Northern part of Belgium. They speak a dialect of dutch; Flemish.
A silhouette of Flandre occupies the front of Embodiment of Scarlet Devil's jewel case.
As the younger sister, she is commonly called 「妹様」 or "imouto-sama" by fans.
A common meme regarding Flandre is 「フランちゃんうふふ」 ("flan-chan ufufu") since many people attribute the slightly sinister laugh "ufufu" to Flandre, as well as the fact that her name is commonly affectionately abbreviated 「フランちゃん」 ("Flan-chan").
Flandre's Second Spell Card (Taboo "Lävatein" or Lævateinn) shares its name with the sword (wand in some versions) of Loki, a Norse god known for causing mischief. This sword/wand is used by the fire giant Surt in Ragnarok (the Norse equivalent of the Apocalypse) to burn down the whole world, except for one safe haven. Fitting that Flandre would be wielding a tool of such destructive might.
Her boss theme ("U.N. Owen was her?") and her second-to-last spell card ("Secret Barrage - And Then There Will Be None?") are references to Agatha Christie's novel And Then There Were None (also published as Ten Little Indians and Ten Little Niggers). U.N. Owen (which the characters of the novel naturally deduced to mean "Unknown" and also recognized as referring to Mr. Owen's wife) was actually seen in person in that thriller but was only revealed at the end.
Her boss theme ("U.N.Owen was her?"), has become popular on various video websites because of videos such as this and this and has been the first contact with Touhou for thousands of internet users.
Flandre was born in 1508 A.D., according to Gensokyo's timeline, and holds the distinction of being one of the few characters whose birth year is known, along with her sister.
Flandre's wings have an unusual appearance which bear almost no resemblance to a vampire's typical bat-like wings (or even organic matter). It has been speculated that her wings are artificial and that she fashioned them herself and then attached them to her body. She may have lost her original wings or been born without them.
Official Profiles
Embodiment of Scarlet Devil - おまけ.txt
 ○悪魔の妹

  フランドール・スカーレット


  能力:ありとあらゆるものを破壊する程度の能力


  エキストラボスです。お嬢様の妹です。


  吸血鬼にして魔法少女で、495年程、悪魔の妹をしています。

  少々気がふれていて、通常は表に出してももらえません。出ようとも

  しません。


  レミリアをお姉様と慕うも、その歯止めの効かない破壊力は、遥かに

  お姉様を凌ぎます。普段はあまり怒ったりしないのですが、常におか

  しいので他人には良く分かりません。


  通常、吸血鬼は食事をするために、人間を殺さない程度にしか襲いま

  せんが、フランドールは与えられたものしか食べたことが無いため、

  人間の襲い方を知りません。そのため手加減が出来なく、一滴の血の

  残さず吹き飛ばしてしまいます。


  もしかしたら、いつも自分が食べているものが動いている人間と一致

  しないのかも知れません。

  毎日食べているものが、見た目ケーキになってたり、紅茶になってい

  たりしたのですから...

Sister of the Devil

Flandre Scarlet

Ability: Destruction of anything and everything

The Extra Boss. Also the Mistress's younger sister.

She is a vampiric magical girl and has been the Scarlet Devil's younger sister for about 495 years.

She's kind of nuts and isn't usually allowed out of the mansion, but she usually doesn't try to let herself out.

She really respects her older sister Remilia, but her raw destructive power far exceeds that of her sister's. Although she is usually docile, her insanity makes it difficult for others to understand her.

When vampires attack humans, they generally try to take their prey alive so that they can suck its blood afterward, but Flandre has always been fed with cooked dishes, so she doesn't know how to properly attack a human. Whenever she tries to attack a human, she can't control herself and blows them away without leaving a spot of blood.

Perhaps she can't tell that her daily meals are made from living humans.

Her meals look like such harmless foodstuffs as cake and tea, after all...
Book Synopsis
Bohemian Archive in Japanese Red
Main article: Article and Interview: Flandre
Aya reports on the strange explosion of a meteorite above Gensokyo. She learns that Flandre was the one who destroyed it, but becomes increasingly confused as Flandre explains she destroyed it by "going 'kyuu'" while holding the eye of the meteorite in her hand. Even more perplexing information is given by Flandre's older sister, Remilia. Apparently, it was planned that the meteorite was supposed to be aimed at the Scarlet Devil Mansion, and that Flandre would destroy it. Inexplicably, Aya ends the article with a report that spring has begun.
In her follow-up, Aya interviews Flandre about the explosion and Remilia's information. Flandre gives the same explanation for how she destroyed the meteorite, and, when questioned, says that her sister just acts like she knows what's happening. Remilia interrupts (for which Aya is thankful), and confirms that what Flandre said was true, insinuating that Aya just can't understand, while giving strange information about the meteorite's source.
Perfect Memento in Strict Sense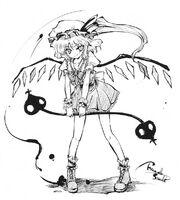 Main article: Perfect Memento: Flandre Scarlet
Flandre is one of the two vampires at the Scarlet Devil Mansion.
Her apparent age is about the same as Remilia Scarlet (who looks to be around 10, even though Remilia is 5 years older and they're both about 500 years old).
She apparently rarely, if ever, attends the parties at the mansion.
Normally she's locked up in the mansion, but it seems she might actually be a shut-in who stays there willingly.
Everyone who enters the mansion hopes they don't run into her, even Marisa.
Because she is rarely seen by visitors, there are many mysteries about her.
Her seven-colored wings are unlike those of any other creature and most likely can't be used for flying.
Even without wings she can fly though, as can many other people.
Flandre can destroy anything she wants by moving the "eye" of the object, where the tension is highest, into her hand and pouring her power into it.
When she clenches her fist whatever she has moved the "eye" of into her hand will be destroyed.
Other than her ability itself, no simple information about it is known.
She also has extreme physical strength.
Unsurprisingly, all the toys she plays with get broken.
The Grimoire of Marisa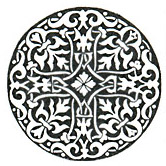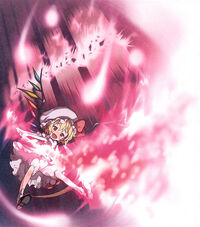 Main article: The Grimoire of Marisa: Flandre Scarlet's Spell Cards