---
---
Spoiler warning: Plot and/or ending details follow.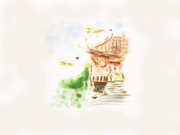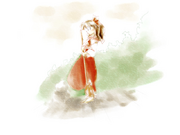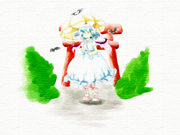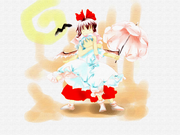 夏の日に捨てられた神社。


太陽はついに休暇から戻ってきました。
晴れた日は長い間不在だった。
人生の兆候がなく、蝉の歌だけがその場所を満たしていた...

The deserted shrine on a summer day.


The sun had finally came back from its vacation,
and the shrine was enjoying long absent sunny days.
With no signs of life around, only the cicada's song was filling the place...

霊夢 「ああ、これは夏がどうあるべきかだ。


その弱い夏は、ひまわりを咲かせていないだろう」

Reimu "Ah, this is how summer should be.


That weak summer wouldn't have made even the sunflowers bloom."

霊夢 「今、私の神社がもっと人の訪問者を得ることができれば、はるかに良いだろう」


??? 「それは本当です。
あまりにも少ない訪問者で本当にうまくいくのですか?」

Reimu "Now, if my shrine could get more human visitors, it would be much better."


??? "That's so true.
Is it really going well with so few visitors?"

霊夢 「あなたは人間じゃないよ、ええ。


あなたのような人がいなければ、もう少し良いかもしれない」
レミリア 「それは失礼です。
私がいなくても、人間は誰も訪れることはないだろう
このような孤立した場所。」

Reimu "You're not human, eh.


If there weren't people like you, it might have been a little better."
Remilia "That's rude.
Even without me, no human would bother to visit
an isolated place like this."

霊夢 「だから、あなたは日光に弱いのではないか?


なぜあなたはすでに自分を灰に変えないのですか?」
レミリア 「私はパラソルを持ってきました。」
霊夢 「もしパラソルがあれば、この悩みは何だったの?」

Reimu "So, weren't you weak against sunlight?


Why don't you turn yourself to ash already."
Remilia "I brought a parasol with me."
Reimu "If a parasol is enough, what was the point of all this trouble?"

レミリア 「ああ、慎重に!私を日差しにさらしているよ!」


霊夢 「正直、あなたは少し日焼けしてよく見えるだろう。
あなたはうんざりしています。」
レミリア 「しかし、それは私を日焼けする前に私を気化させます。」

Remilia "Ow, careful! You're exposing me to sunlight!"


Reimu "Honestly, you'd look better with a bit of sun tan.
You're sickeningly pale."
Remilia "But it'll vaporize me before tanning me."

レミリア 「あなたがそれを吸うようになったら、


それはあなたを不滅にさせます。」
霊夢 「...いいところじゃないよ」
レミリア 「本当にそうじゃないですか?」

Remilia "And if you happen to inhale it,


it will make you immortal."
Reimu "...That's no good."
Remilia "It really isn't, is it?"

霊夢「それでは約20年はかけてみましょう」


レミリア「ウグー...」

Reimu "Okay, let me have about 20 years worth of it then."


Remilia "Uguu..."

平和な夏には永遠の時間がありました。


神社は永遠に同じままになっているかのように見えました。

第3戦

The peaceful summer had everlasting time in it.


It looked as though the shrine would stay the same for eternity.

Ending No. 3
Community content is available under
CC-BY-SA
unless otherwise noted.