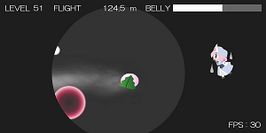 A game created by Chibitami where you must guide Yuyuko to eating food while avoiding bullets.
Objective
Use your mouse. The light is centered on your mouse cursor. Click many times to keep Yuyuko in the air. The more the cursor is on the left side, the faster Yuyuko goes. Help her fly to the farthest.
Mind the 'Belly' gauge at all times while playing. If a bullet hits Yuyuko, the gauge drops. Eating a food (known as Sakura-Mochi) increases the gauge a little. Be on the lookout for Mystia Lorelei who is also edible. Avoid her musical note bullets and get closer to startle her. Eating Mystia will increase the gauge a lot. If the gauge is depleted along the way, she can no longer fly and eat anymore.
The game is over when Yuyuko falls off-screen.
If you exceed 7500 meters, the extra mode will be unlocked where you start at level 51.
External Links
---
Community content is available under
CC-BY-SA
unless otherwise noted.