Welcome to the Touhou Project Wiki!

Touhou Project is a series of vertical-scroller danmaku (barrage or bullet hell) shooting games made by Team Shanghai Alice, with three fighting game spinoffs co-produced with Tasogare Frontier. They are similar to regular shooting games, but focus more on weaving through complex patterns containing anywhere from dozens to hundreds of bullets. The games are set in the fantasy land of Gensokyo, and the series is known for its huge cast of characters, well-developed storylines, and related materials such as music CDs, fan-made comics and animated videos made to the music.
Contents
Featured Videos
Undefined Fantastic Object features three playable characters (Reimu, Marisa and Sanae), each with two weapon types. The weapon types are often denoted A and B. In total the player can choose between 6 different ways to start UFO. However, unlike Mountain of Faith and Subterranean Animism, the spell card (bombing) system from the older games (such as Perfect Cherry Blossom and Imperishable Night) has been reintroduced.
The gameplay system unique to Undefined Fantastic Object comes this time in the form of colored UFOs. Certain enemies will drop a UFO on destruction, which the player can collect for different effects. By utilizing this system, the player can receive more bombs, life pieces, or point bonuses.
About the Wiki
This wiki is a collaborative encyclopedia about Touhou Project, created by fans for fans, and anyone can edit! We depend on readers like you getting involved and adding content. Visit the Community page to see what needs to be done, or just click the "ADD NEW PAGE" or "EDIT" button at the top of any page to get started!
Starting Out
Never edited a wiki before? Check these links!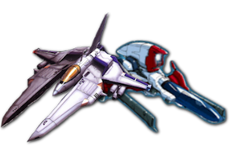 Community content is available under
CC-BY-SA
unless otherwise noted.