Main Profile
編集
名前:

古明地こいし(こめいじ こいし)

Koishi Komeiji

Alternate spellings:

   

種族:

能力:

無意識を操る程度の能力

年齢:

不明

職業:

不明, あてもなくぶらついていると思われています。

住んでいるところ:

人相:

(Touhou 11) Has wavy, grey-greenish, short hair and dark green eyes, wears a black hat with a yellow ribbon around it. A closed, dark blue "third eye" is positioned over her heart, with cords wrapped around her torso and attached to each of her ankles. Wears an orange shirt with diamond-like blue buttons and dark green collar. The skirt is also green with a faint flowery pattern, but a lot lighter. Her shoes are black.

人物関係:

出演作品:

テーマ曲:

ハルトマンの妖怪少女(♪)

She is Satori Komeiji's younger sister. She wanted to avoid the hate and dislike which Satori experienced due to her mindreading abilities, so she sealed away her own Third Eye. This backfired, since she gained the ability to read and manipulate peoples' subconscious, an even greater ability. However, she also became much more carefree as a result, and didn't mind as much.
She now spent much of her time wandering the world aimlessly. After her encounter with the heroine in Subterranean Animism's Extra Stage, however, she became curious, and wanted to start actually meeting people.
Fun Facts
編集
The characters for Komeiji literally mean "ancient and pure/bright earth". Koishi is not written in Kanji, but it's supposed to mean "love" or "beloved".
In Koishi's profile, it is said that she met a human at the shrine at the top of the mountain who made her regret closing her third eye and want to learn more about this human. Though it may seem like this was talking about Sanae, once put in to context by the extra stage of Subterranean Animism, it is clear that the human it was talking about is either Reimu or Marisa.
Koishi's musical theme, Hartmann's Youkai Girl, may refer to Eduard von Hartmann (whose most famous work is entitled The Philosophy of the Unconscious) or Heinz Hartmann (as many of Koishi's spellcards seem to make references to ego psychology.) The track itself is also arranged so that it has symmetrical parts, making it sound remarkably similar to itself even when played reversed, possibly as a reference to the practice of backmasking.
Satori and Koishi's design may have been inspired by the 1939 painting by Kahlo titled "The Two Fridas". The subject is essentially two identical women (sisters/clones/twins...) with visible hearts and external arteries that seem to connect and wrap around their shoulders and arms, where one of them has a cut artery and a pair of scissors in hands (Resembling Koishi, who has closed her third eye).
Koishi is occasionally drawn with some sort of connection to Flandre Scarlet, since both are extra-bosses who are the younger sisters of the owner of a mansion from the same game.
Since many aspects of Koishi are references to psychology, there's a running joke that her "Embers of Love" spellcard is a reference to the phallic obsession of Freudian psychology. For those that do not get the hint, look closely at the shape of the bullets. Of course if you think that, maybe Freud was right.
If her's and Satori's color schemes are inverted, they will both somewhat resemble each other.
Satori's design can also be referenced to all the bosses in Ibara, as both Koishi and the Rose sisters have white hair and has a lot of reference to roses (although roses in Ibara are point items instead of bullets)
Official Profiles
編集
Subterranean Animism - おまけ.txt
編集
  ○EX面ボス 閉じた恋の瞳
  古明地こいし(こめいじ こいし)
  Komeiji Koishi

  種族:さとり
  能力:無意識を操る程度の能力

  古明地さとりの妹。
  彼女もさとり同様、心を読む妖怪であった。
  しかし心を読む事で嫌われる事を知り、こいしは心を読む第三の
  眼を閉ざしてしまった。

  それにより心を読む能力を失ったが、代わりに無意識で行動する
  事が出来る様になった。
  地底の住人からは嫌われる事は無くなったが、同時に恐れられる
  事も動物たちに好かれる事も無くなった。

  心を読む力は、自らの心の強さでもある。
  それを嫌われるからと言って閉ざしてしまう事は、ただの逃げで
  あり、結局は自らの心を閉ざしたのと変わらない。他人の心を受
  け入れないで完全にシャットダウンする事なのだ。


  彼女は大した目的もなく、あちこちをフラフラ放浪するだけの妖
  怪となってしまった。彼女としては別にそれが楽しいのだから、
  何の問題もないのだが。周りから見ると少し可哀想にも見える。

  姉のさとりも閉ざされたこいしの心だけは読む事は出来ず、いつ
  も何処で何をしているのかよく判っていない。
  ペットの猫のように遊んで帰ってきては、また遊びに出て行って
  しまう。

  さとりはそんなこいしを不憫に思い、最近ペットにこいしと遊ぶ
  ようにと命令し、何匹か専属のペットを与えた。
  ペットを飼う事で少しずつ目的が生まれ、他の人の心を受け入れ
  る事も出来る様になると考えていた。
  少しずつだが、ペットを飼い始めてからこいしも変わってきた様
  だった。




  今回は、地上から人間が降りてきて姉やおくう達と一悶着あった
  と聞き、中でもおくうの驚異的な能力アップが気になり、地上を
  目指す事にした。

  無意識で行動する彼女は、誰にも気付かれることが無い。
  地上に出ようと、寝ている巫女の脇を通り抜けようと、天狗が警
  備する山を通ろうと、誰一人彼女の気配に気付かないだろう。

  それは都合の良い事もあるが、やはり少し寂しく見える。
  しかし、寂しいと思う心も持ち合わせていなかったのである。



  目的である山の上の神社で偶然出会った人間。その未知なる人間
  との出会いが彼女の心境に小さな変化をもたらした。
  こんな面白い生き物が居るなんて、と思い、もっと目の前の生き
  物の事を知りたいと思った。このとき初めて、第三の眼を閉ざし
  た事を後悔した。


   まず手始めに地底の地霊殿に招待しよう。
   お姉ちゃんやおくう、お燐とどんな戦いをしたのだろうか。
   今まで、どんな妖怪と戦ってきたのだろうか。
   尽きることのない話題を聞きたい。


  そう思った時、こいしの第三の瞼が少し柔らかくなるのを感じた。

Extra Stage boss The Closed Eyes of Love


Komeiji Koishi

Species: satori
Ability: power to manipulate the subconscious

Satori Komeiji's younger sister.
Like Satori, she was a youkai who has the ability to read others' minds.
However, knowing that people don't like having their minds read, Koishi closed the third eye that gave her the ability to manipulate the subconscious.

As a result, she lost her ability to read others' hearts, but in return she gained the ability to take action unconsciously. The denizens of the underground no longer hated her, but at the same time, they never feared her and animals no longer loved her.

The ability to read people's hearts also makes one's own heart stronger.
Closing off that ability because it's hated is just running away, and is no different from closing off one's own heart. It's effectively pushing away others' feelings and shutting down.


She became a youkai who wandered to and from aimlessly. Personally, she thought it was fun, so it wasn't really a problem. People around her felt a little sorry for her.

Even her older sister, Satori, is unable to read Koishi's sealed-away heart, and doesn't really know where she goes or what she does there.
Just like a pet cat, she leaves and returns and leaves again according to her own whims.

Satori took pity on Koishi, ordering her pets to play with her and giving her some pets to keep as her own. She thought that taking care of the pets might give her a purpose, and it might enable her to begin opening her heart to others again. Indeed, it seemed that Koishi began to change, ever so slightly, after she began to raise her pets.




She heard that a human had come from above ground and had fought with her sister, Okuu, and the other pets, and was amazed at the incredible power-up Okuu had gotten, so she decided to go see the above ground world herself.

Because she could act unconsciously, she remained unnoticed. She could go above ground, sneak past sleeping shrine maidens, or go into the mountain the tengu guarded, and nobody would take notice of her.

In a way, it was convenient, but she was also lonely.
However, she had no heart capable of feeling this loneliness.


At her destination, the shrine atop the mountain, she happened to meet a human. Her meeting with this stranger changed her mental state ever so slightly.
She thought, how amazing it is to meet such an interesting person, and wanted to know more about her. For the first time, she regretted having closed her third eye.


 I'll start by inviting her underground to the Palace of the Earth Spirits.
 I wonder what kind of fight she had with my sister, Okuu, and Orin.
 I wonder what kind of youkai she's fought with.
 I want to hear her endless stories.


When she thought this, Koishi felt the lid of her third eye begin to shift a little.
Book Synopsis
編集
The Grimoire of Marisa
編集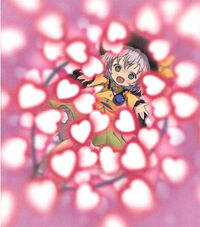 Main article: The Grimoire of Marisa: Koishi Komeiji's Spell Cards
特に記載のない限り、コミュニティのコンテンツは
CC-BY-SA
ライセンスの下で利用可能です。