Main Profile
編集
名前:

八雲 紫(やくも ゆかり) (♫)
Yukari Yakumo

種族:

能力:

境界を操る程度の能力

年齢:

1200歳以上、 幻想郷の歴史よりも長く生きている

職業:

不明、ほとんどの時間寝ている

住んでいるところ:

Somewhere along the boundaries of Gensokyo

人相:

(Touhou 8) Dark golden eyes, long blond hair, usually carries a pink parasol. Wears a pink and purple dress, and a pink mob cap with a thin red ribbon tied in the front.
(Touhou 7.5, 10.5) Same as the above but her long blond hair has been coiled up into her white mob cap.
(Touhou 7.5, 10.5, alternate outfit) Same as the above but her dress is yellow and orange instead of pink and purple and she has green hair instead.
(Touhou 7) Purple eyes, long blond hair, carries a pink lace parasol and a paper fan, rides on a red boundary to unknown destination. Wears a deep purple dress, a pink mob cap, and red ribbons tied liberally on her accessories.

人物関係:

出演作品:

テーマ曲:

{{{テーマ曲}}}

An often seen and referenced character, Yukari is the youkai of boundaries. She was first introduced in Perfect Cherry Blossom as the sleepy mistress of Ran. During Imperishable Night Yukari teams up with Reimu to find those responsible for the fake moon. In Immaterial and Missing Power she actually sings her way from battle to battle stealing everyone's sake, wine, and brandy. Even right from the shrine's altar... however, this is all part of her strategy to save the day. Somehow.
Over a thousand years ago, Yukari organized an army of youkai and led them in an invasion of the Moon. The youkai were subsequently routed by the Lunarians, who possessed superior technology and magic, and forced to retreat to Earth. Since that time, no youkai have attempted to expand their territory beyond Gensokyo. While some speculate that Yukari organized the invasion out of selfish hunger for territory and power, others believe she did it to teach the youkai a lesson about starting wars of conquest; namely, that it was a bad idea.
About a thousand years ago, Yukari met and became friends with a human girl named Yuyuko. After Yuyuko died, Yukari continued to be friends with Yuyuko's ghost, although Yuyuko gradually forgot who she had been and why she had died. When Yuyuko requested that Yukari use her power to weaken the border between the Netherworld and Gensokyo, Yukari obliged. She knew Yuyuko's plan to make the Saigyou Ayakashi bloom could never succeed, but was too busy sleeping to say or do anything about it, or to put the border back to normal after everything was finished, which put her on a collision course with the heroines.
Yukari is known for being a very youkai-like youkai who sleeps all day and lives for the enjoyment of life. Though she rarely leaves her house she's well-connected and is acquainted with most of the most powerful youkai (such as Suika and Yuyuko) as well as anyone having anything to do with the Hakurei border or outside world (Reimu and Rinnosuke). She's possibly the most powerful youkai in Gensokyo and has a tendency to toy with her opponents rather than use her full power from the start. If anyone is suited for the role of "mastermind" it's Yukari, and she often has a great deal of insight and understanding about whatever happens in Gensokyo, and possesses considerable intellectual prowess, as well. Though she seems flaky and unreliable most of the time, when the safety or security of Gensokyo is at stake, she won't hesitate to get involved, even if it means using others to do the work for her. For example, in Scarlet Weather Rhapsody, she treats Tenshi Hinanai with much hostility after finding out the plot of the Heavens. She could easily be either a villain or a heroine, depending on her whims.
Fun Facts
編集
The characters for Yakumo literally mean "eight clouds" (but can also mean "countless clouds"), and Yukari "violet". All of the Yakumo family are named after colors. The light frequencies (energies) of the colors are proportional to their powers: Chen (orange) << Ran (indigo) < Yukari (violet). The energy of violet light is the highest in the visible spectrum, and violet light is the boundary between visible and invisible light. Red light (the symbolic color of Remilia Scarlet or Reimu Hakurei) is another boundary, but they are stronger than Chen. Fittingly, when Reimu and Yukari team up in Imperishable Night, they are called the "Boundary Team". In addition to maintaining the Hakurei Barrier, their colors form the two boundaries between visible and invisible light. In addition, the word "yukari" is uncommonly used to mean "border" or "edge", albeit with a different character.
"Yakumo" also comes from the first ancient poem written in what would become the Japanese "Tanka" form:
Yakumo tatsu / Izumo yagegaki / Tsuma-gomini / Yaegaki tsukuro / Sono yaegaki wo
Definitely in keeping with the character's origin/age in the storyline. The translation into English is: "Eightfold rising :clouds/ Build an eightfold fence / An eightfold Izumo fence / Wherein to keep my bride-- / Oh! splendid eightfold fence."  :This poem was attributed to the god Susanoo. Interpretations vary as to the meaning of the poem.
Yukari's name is thoroughly analyzed in chapter 25 of Curiosities of Lotus Asia by Rinnosuke. However, Rinnosuke implies at the end that there may be even more meanings hidden in it. Chapter 25 of Curiosities of Lotus Asia also reveals that Yukari Yakumo gave herself that name.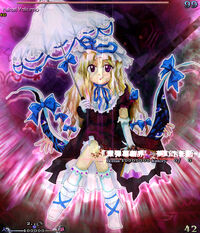 Occasionally, double rainbows form after rainfall—there's the rainbow one usually sees (red on the top, and violet at the bottom), and another, larger, fainter one above it. The colors on the second rainbow are reversed—red on the bottom, and violet at the top. In other words, the outside edges of the rainbow are violet—or, put another way, violet forms the boundary between the sky and the rainbow. Thus, Yukari's given name strongly signifies the idea of boundaries.
Because of her understanding of technology from the outside world, there are rumours that she lives in the outside world from time to time.
Marisa once stated that Yukari uses a small box to talk to her shikigami when they are far away from her, which led Rinnosuke to believe that she owns a cell phone (at least two, really).
Popular fan-nicknames for Yukari include "Sukima" ("gap"), "Yukarin" (a contraction of "Yukari-chan"), and "Babaa" (roughly, "old hag"). This latter is because she is known as one of the oldest youkai in Gensokyo. 
In some fanworks, Yukari insists on being 17 years old. Usage in fanworks is possibly a parody of Kikuko Inoue, who claims that she is 17 years old despite being way over that age. Musou Kakyou: A Summer Day's Dream casts Kikuko Inoue as the narrator (probably Yukari), in a nod to this in-joke.
The outfit Yukari wears in IaMP, IN, and SWR has two groups of solid/broken lines called trigrams on the front. A solid line represents Yang and a broken line is Yin. The top trigram (テンプレート:Lang) is "dui" or "tui" (open) and is associated with west and water. The bottom trigram (テンプレート:Lang) is "kūn" (field) and is associated with southwest and earth, as well as Wikipedia:Yoni Yoni (divine passage). The two trigrams together in that order form the hexagram for "clustering," "gathering together," and "finished." Sounds more fitting for Suika in a way...
More on the hexagram, the hexagram "Ts'ui" formed by the combination of "tui" and "kun" results in a meaning of gathering together to persevere towards a destination. This hexagram signifies also great wisdom which is necessary for leadership when directing an assembly together to create overall prosperity for everyone (for example a ruler). Yukari herself can be seen as an overseer of Gensokyo. Her ability to create borders would definitely give her the ability to bring everyone together (perhaps by force) while maintaining the harmony of the "created" world. Maybe this design was a critique on her abilities?
For some reason, Yukari's appearance in spell card 222 in Imperishable Night, is different from other characters. Instead of using the new image in Imperishable Night, a modified image from Perfect Cherry Blossom is used (she has blue ribbons instead). What is more strange is that the background used in the spellcard, which is also from PCB, uses Yukari's original cut-in image with red ribbons. Yukari's sprite in StB also sports blue ribbons.
Yukari is also often depicted with Kanako Yasaka and Eirin Yagokoro. This is due to their family names containing the character テンプレート:Lang (pronounced "Ya") which, when misread, can mean old hag.
Although not expressly stated, Yukari is commonly considered one of the most powerful—if not the most powerful—youkai in Gensokyo, although a few other youkai like Yuka Kazami and Suika Ibuki have been considered to be around her level. However, she might still lose spellcard battles to humans or youkai.
Yukari is sometimes seen riding on top of a train in fan-made videos, likely due to her most powerful spellcard in SWR and Touhou Hisoutensoku, in which she summons a train to run over her opponent.
Yukari is associated with Maribel (see Maribel's page for details), although their exact relationship, if any, is unknown.
She is the only Phantasm boss in the series.
Official Profiles
編集
Perfect Cherry Blossom - キャラ設定.txt
編集
 ○神隠しの主犯
  八雲 紫(やくも・ゆかり)

  春になると目が覚めるすきま妖怪。
  主に、あらゆる境界を操る程度の能力を持つ。

  幽々子とは旧知の仲であるが、別に幽霊ではない。幻想郷の中でも、
  もっとも辺境にひっそりと棲む妖怪である。ここから、博麗大結界を
  見つつ暮らしている。

  たまに幻想郷に人間が紛れ込むのも、紫が境界に揺らぎをつくったり
  するからである。人間は神隠しと呼ぶ現象も、結局神の仕業ではなく、
  この妖怪少女の仕業だと知ってしまったら、何の神秘性も失われる事
  だろう。

  紫は普段は余り動くことは無く、代わりに式神の藍を操り生活をして
  いる。でも殆どが睡眠時間の為、寝ている間は藍はほったらかしで、
  何をしているか良く知らない。

  その式神の藍が何者かにやられた事を聞き、ちょっと驚いたが二度寝
  をした。

  ニ度寝から目を覚ましたとき、ようやく、あたり一面がすっかり春に
  なっていたことに気が付いた。実は10日程も前から春になっていた
  のだが、そのことを寝る度に忘れ、起きるたびに驚いていたのだ。

  藍の修復が完了するまで、おちおち寝てもいられないなぁ、と思いつ
  つ三度寝をする。

  そんなときに、今回の騒動で薄くなった幽明の境を修復して欲しいと
  幽々子から依頼を受ける。自分で弱くしておいて修復もへったくれも
  無いな、と思いつつ眠い目を擦り出発する。

  久しぶりに冥界に訪れた紫は、妙な賑わいぶりに不思議に思う。西行
  寺家はもっと静かじゃなかったか?と思ったが、幽々子の趣味が変っ
  たんだろうと勝手に納得した。

  途中で庭師の妖夢に会い、詳しく事情を聞いた。妖夢の話し振りでは
  どうやら酷い目に遭ったらしいが、紫にはどう聞いても自業自得にし
  か聴こえなかった。


  皆、あの妖怪桜に狂わされていただけの様に見える。あの桜は人の精
  気を吸いすぎている。常々危険だと思っていた。思ってはいたが、自
  分の力ではどうしようも無い事も分っていた。
  紫は幽々子が生きていた頃から知っている。実は、幽々子が妖怪桜に
  封印されているのではなく、幽々子の亡骸が妖怪桜を封印している、
  という事も。

Mastermind behind the spiriting away
Yukari Yakumo

The youkai of boundaries, who awakens at spring.
Her main ability allows her to manipulate boundaries of all sorts.

She and Yuyuko have known each other for a long time, but Yukari is not a ghost. She lives in the remotest place in Gensokyo. Her lifestyle involves a lot of staring at the Hakurei Border.

When humans from the outer world wander into Gensokyo, it's all thanks to fluctuations in the boundary caused by Yukari. There is an enchanting element about the phenomenon which people like to call "Spirited Away"; if it is ever discovered that spiriting away is not the work of gods, but the meddling of a youkai girl, the term will lose all of its mystique.

Yukari usually doesn't act on her own, preferring instead to have Ran handle the details of daily life. But, since she is almost always asleep, she has no idea what Ran does while she sleeps.

When she heard that Ran had been defeated by someone, she became mildly surprised before going back to sleep.

After waking up from her nap, she finally noticed that spring had graced her place of residence. The truth is that spring had been around for the past 10 days, but she forgot it whenever she went to bed and woke up just as surprised the next time.

She couldn't sleep carelessly until Ran fully recovered, but she opted to sleep on the problem.

The next time she woke up, she received a request from Yuyuko asking her to restore the boundary between the world of the living and the world of the dead. It was a ridiculous request since Yuyuko was the one who weakened it to begin with, so Yukari rubbed the sleep from her eyes and set out for repairs.

It had been quite a while since Yukari's last visit to the Netherworld, and she was curious to see that it was bustling with excitement. She thought the Saigyouji family were more quiet, laid-back folk, but she shrugged and decided Yuyuko had just had a change in taste.

She met the gardener, Youmu, along the way and heard about the situation. Youmu admitted that they seemed to be in quite a mess, but it sounded like well-earned punishment to Yukari.

Everyone always seemed to be bent out of shape about that youkai cherry tree, and nothing else. Surely, it had drained the spirit from too many human lives. Yukari knew it was dangerous. However, she realized there was nothing she could do about it.

Yukari had known Yuyuko since before her death. She also knew that it was not Yuyuko who was sealed by the Saigyou Ayakashi...

... but that it was Yuyuko's body that was sealing the Saigyou Ayakashi.
Immaterial and Missing Power - 上海アリス通信.txt
編集
 ○幻想の境界
  八雲 紫(やくもゆかり)

  種族:妖怪
  住処:不明
  能力:境界を操る程度の能力

   幻想郷の妖怪。文字通り妖しくて怪しい。幻想郷の境にある屋敷にす
  むと言うが、その場所は知られていない。何故か外の世界にも詳しい。
  非常に胡散臭い。

   性格は理解不能だが、決して良い物ではないという所はは誰もが認め
  る所である。出来る限りなら会いたくないと思われている。普段は霊夢
  位しかまともに相手をしてくれない。

   体術も、人間の基準とは異なる動きをする。速くもなく重くもない。
  強いのか弱いのかすら計り知れない。遊ばれている様に見える紫の行動
  は、例え勝ったとしてもなんか腹立たしい。

   しかしながら、彼女ほど幻想郷と真摯に接し、幻想郷を愛している者
  もいない。


Yukari Yakumo

Species: Youkai
Location: Unknown
Ability: Manipulation of boundaries

A youkai living in Gensokyo. As these letters (妖怪) tell, she is dubious and suspicious. It's said that she lives in a mansion located at the edge of Gensokyo, but nobody knows where it really is. For some reason she knows a lot about the outside world too.
That makes her very suspicious.

Her personality is hardly understandable, but everyone agrees that it's not something pleasant. Many people don't want to meet her, if possible. Usually, only Reimu bothers to deal with her.

Her fighting style is completely different from a human's measure. It's neither fast nor heavy-hitting. It is uncertain whether she is really tough or not. Her attitude makes you think as if you're being teased by her, which is really irritating even if you manage to defeat her.

However, no one can match her in sincerely caring about Gensokyo, and loving it with all her heart.
Imperishable Night - Manual
編集
 ○境界の妖怪 八雲 紫(やくもゆかり)
  幻想郷の境に住む妖怪。
  境界を操る程度の能力を持つ。どの位長く生きているのか不明だが幻想郷の歴史よりは長いはず。
  誰から見ても心が読めない性格は、長く生きる者特有の嫌味を感じない。
  割と近寄りがたいが、その理由は威圧感と言うより、胡散臭さにある。
  一人の式神を遣い、雑用を任せっきり。本人は気楽なものである。
  式神はある意味人質を取られてる様なもんだからたまんない。
  境界(結界)を操る事がどれだけ危険で強大な力なのかは計り知れない。
  紫の様なちょっと変わった妖怪か、力の重圧に耐えられる者で無いとその力は扱えないのだ。

  武器は式神。道具扱い。

    備考
    今回は霊夢と組む。
    高速移動は単独使用時のみの性能である。
    式神に任せっきりの人生。式神は一度ロックすれば、ショットを止めるか敵が死ぬまで
    ロックしっぱなしになる。ただし、最初のロックはある程度正面の敵しかロックしない。
    まったりこそ人生、という人向け。


Youkai of Boundaries, Yukari Yakumo


A youkai living at the edge of Gensokyo.
Her ability allows her to manipulate boundaries. It is uncertain how long she has been alive, but her existence at least predates the history of Gensokyo itself.
Her personality is hard to understand; unlike other long-lived entities, she displays none of the bitterness commonly associated with old age. She is difficult to approach, but that's due more to her deviousness than any uneasy feeling that people may have around her.
She owns one shikigami, and lets her shikigami do all her daily chores for her. Yukari herself always leads an easy life. From that shikigami's perspective, it's like her master is holding her hostage, so it's quite maddening.
The danger and potency of the power to manipulate boundaries is beyond imagination. It's something that can only be controlled by those who are able to withstand its stress, or some weirdo youkai like Yukari.

A shikigami is a potent weapon. Yukari treats hers like an item.

Notes
She teams up with Reimu this time.
Normal speed only applies when she's used as a solo character.
As in daily life, she leaves all the work to her shikigami. Once locked on to a target, her shikigami pursues and attacks it until either Yukari stops shooting or the target falls.
Be aware that you must move in front of an enemy to acquire a target lock.
Recommended for players who believe that a laid-back life is best.
Imperishable Night - キャラ設定.txt
編集
 ○境目に潜む妖怪
  八雲 紫(やくも ゆかり)
  Yukari Yakumo

  種族:妖怪
  能力:境界を操る程度の能力

  幻想郷の境の何処かにすむ妖怪。
  境自体は普通の人には見えない為、何処に住んでいるのか不明。
  最低でも同じ境上にある神社ではない。

  幻想郷に住む妖怪の中では、かなり昔から存在し力も強大である。今
  では幻想郷そのもののことを良く知っている者は、妖怪の中でも数少
  ない。彼女は胡散臭く見られるが、それは人間っぽさが少なく、行動
  が理解出来ない所為でもある。その能力は、困ったら簡単に幻想郷を
  潰す事もできる危険な妖怪でもある。


Youkai that lurks in the boundary
Yukari Yakumo

Species: Youkai
Ability: Manipulation of boundaries

She lives somewhere on the boundary between Gensokyo and the outer world. Since most people can't see the border, no one is certain exactly where she lives. They know only that she does not live near the Hakurei Shrine, which is also located on the boundary.

She is one of the oldest beings in Gensokyo and has the power to prove it. Gensokyo's origins have been long forgotten by humans and even most youkai, but it seems that she still remembers some part of it. She is often described as devious; that's mainly because she doesn't think like a human, so others find her actions quite difficult to comprehend. She easily has enough power to annihilate all of Gensokyo if she so desires, so it's probably a good thing that she is somewhat weird...
 ○幻想の境界
  八雲 紫(やくも ゆかり)


  種族 : 妖怪

  住家 : 幻想郷と外との境界にあるといわれる家

  能力 : 境界を操る程度の能力

  性格 : 冷静にして人に避けられやすい

Border of Fantasy
Yukari Yakumo


Race: youkai

Residence: said to be a house outside the borders of Gensokyo

Ability: the power to manipulate borders

Personality: very collected, and easily off-putting
 ○境界の妖怪
  八雲 紫(やくも ゆかり)
  Yakumo Yukari

  種族:妖怪
  能力:境界を操る程度の能力

  普段は何処にいるのかよく判らない神出鬼没の妖怪。
  今回は会話できる陰陽玉を作った。

  地底は地上の妖怪達とは違う社会を築いているので、余り干渉したが
  らない。突然の怨霊の出現に戸惑う。
  何か大きな異変だったら嫌だなと、影響力の小さい霊夢に調査を依頼
  した。

The youkai of boundaries
Yukari Yakumo

Species: youkai
Ability: Power to manipulate borders.

A youkai who comes and goes where she pleases; no-one ever seems to know where she is.
This time, she's made yin-yang orbs that let you talk to her.

Since the underground youkai have built up a society separate from that of the youkai above ground, she doesn't seem to want to interfere. The sudden appearance of the evil spirits puzzled her. She didn't want it to turn into some major event, so she sent Reimu, who had relatively little influence on things, to investigate.
Rough
編集
・ちょっとボスらしく戦闘
 モードに。(式神使役モード)
・藍が中華風なのは紫が
 中華風だからです。
・髪は長髪だが、戦闘モード
 ではキャップの中に詰めてあります。
・ちょっと複雑すぎるかもしれないですが

· In battle mode, kind of like
a boss. (Shikigami Deployment Mode)
· Ran is in Chinese style dress because Yukari
is in Chinese style dress.
· Her hair is long, but in battle mode
she has it tucked in her cap.
· Maybe this is a little too complex.

Book Synopsis
編集
Bohemian Archive in Japanese Red
編集
Main article: Article and Interview: Yukari
After hearing a fox's cry, Aya Shameimaru went to investigate. She found Yukari beating Ran Yakumo over the head with an umbrella, which Yukari claimed was only for disciplining her. Because Aya is a crow tengu, she feels animal rights are important and was upset by Yukari's "animal abuse."
During the interview Yukari insisted that it was not animal abuse because Ran is a shikigami, which Yukari considered to make her no longer count as being an animal. Yukari explained that as long as a shikigami follows its master's will then it will be as strong as its master. Ran had apparently disobeyed Yukari by doing something she hadn't been ordered to do. Because of that Ran wasn't as strong as she could be and ended up putting herself in danger while relying only on her own strength. This discipline was meant to remind Ran just who her master is so that Ran won't needlessly be in danger by fighting at less than full strength. Aya didn't think that excused it at all.
Yukari also called the Bunbunmaru Newspaper a shoddy paper and offered to make Aya her shikigami too, which Aya refused.
Perfect Memento in Strict Sense
編集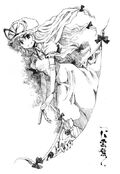 Main article: Perfect Memento: Yukari Yakumo
Although Yukari's appearance is identical to a human she is not one, does not think like one, and cannot be expected to be friendly toward humans.
She has no weaknesses, but fortunately seems to rarely attack humans.
She sleeps in the day and is awake at night, like most youkai, and wears extravagant clothes.
At the very least she is 1,200 years old and has been involved in various major events in Gensokyo's history.
She is extremely intellegent and good at mathematics, as well as being very experienced due to her long life.
She's eager to tell people about herself and Gensokyo but no one knows if she's telling the truth.
Her house is supposed to be on the Hakurei Border but no one knows exactly where, or if it's even in Gensokyo at all.
Yukari sleeps so much that much of her work is left to her shikigami Ran Yakumo instead.
Yukari's power to manipulate boundaries gives her power over all sorts of things and is comparable to the powers of the gods.
Her manipulation of boundaries even affect illusion and reality, or the fictional and the actual.
She can travel anywhere through gaps in space and cannot be followed through them, and can freely travel through the Hakurei Border.
She could also simply reach a hand through a gap in space and steal people's food from a distance.
Because Gensokyo itself exists due to the boundary around it, Yukari could supposedly destroy Gensokyo if she wished.
Over 1,000 years ago Yukari invaded the Moon with an army of youkai for unknown reasons but was defeated.
Yukari apparently had a hand in the creation of the Hakurei Border as well as encouraging youkai to immigrate to Gensokyo.
Originally not all youkai supported the creation of the Hakurei Border but hardly any are against it now.
Yukari is thought to have weakened the border between the world of the living and the Netherworld for an unknown reason.
The Grimoire of Marisa
編集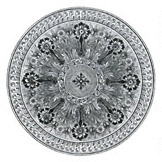 Main article: The Grimoire of Marisa: Yukari Yakumo's Spell Cards