Main Profile
編集

Patchouli Knowledge is a very smart, anemic magician from the Scarlet Devil Mansion. Although she has only been a boss in one game, and playable character in three others, she is still a very popular character, showing up in many endings and is referenced quite often. She spends most of her time in the mansion's library reading and writing magic books. It seems that she's capable of very powerful magic of all kinds, using many elements in a single spell, but due to anemia and general poor health she's often unable to recite her spells.
In Embodiment of Scarlet Devil, she attempts to stop the player from going further into the Scarlet Devil Mansion. In the extra stage, she tries again, and uses much more powerful magic, in part because she says she "felt better that day".
She rarely leaves the Scarlet Devil Mansion, but in Immaterial and Missing Power makes an exception to go investigate the recent strange events. In other character's scenarios she's visited by several of them thinking that she, of all people, must know what the strange mist is. However, getting a straight answer from her is anything but easy. In Scarlet Weather Rhapsody, she decided to find what was the cause of the weather disaster. In the events of Subterranean Animism, she noticed the abnormalities in the underground, and had Marisa go with the help of Yukari preparing Marisa's options.
Fun Facts
編集
Her first name, "Patchouli," could be taken from name of a herb used in perfumes and incense. Her last name, "Knowledge," appears to be a reference to her amount of knowledge, though few other characters seem to have such literal surnames.
After being defeated in Marisa's scenario in IaMP, she utters "mukyu~". Since then, fan works have often depicted her using this sound as a sign of surprise or pouting.
In other fan comics, Patchouli is considered a hikikomori due to her apparent habit of spending all her time in one room (the library) and rarely ever stepping outside. She would only have to keep this up for 6 months to meet the time span given in the definition, and she's been living like that for the past 100 years.
Patchouli has been rumored to be the inspiration for the character Yue Ayase from the manga Negima! Magister Negi Magi. Like Patchouli, Yue is a short, quiet girl with long purple hair, an unexcitable personality, an affinity for books (she is a librarian) and magic (she is also known to dress in a witch outfit similar to Marisa's).
The crescent on Patchouli's hat could be the crescent in the Sanskrit "Hum", part of the Mantra "Om mani padme hum". In Buddhism, it stands for knowledge and purity and is associated with the color white—all the 7 colors combined.
She has waterproof books that Marisa finds interest in reading in the bath.
As of Double Spoiler, Patchouli has had appearances in 9 of the 12 windows games (counting Hisoutensoku as a standalone). This makes her the third most featured character, behind Reimu and Marisa.
Patchouli's magic based on elements of Wood, Fire, Metal, Water, and Earth. In Chinese signs of the Zodiac there are five beasts: Azure Dragon, Red Bird, White Tiger, Black Turtle and Yellow Dragon. Each of the five beasts refer to same elements Patchouli use: Azure Dragon - Wood, Red Bird - Fire, White Tiger - Metal, Black Turtle - Water and Yellow Dragon - Earth.
In Hisoutensoku, one of Patchouli's alternate colors resembles Hina's outfit.
Official Profiles
編集
Embodiment of Scarlet Devil - おまけ.txt
編集
 ○知識と日陰の少女
  パチュリー・ノーレッジ

  能力:火+水+木+金+土+日+月を操る程度の能力


  4面ボスです。お嬢様のお友達で大体100年は魔女をしています。
  1週間少女です。

  もともと病弱で肉弾戦が苦手ですが、圧倒的多彩な魔法攻撃でそれを
  カバーしてます。パチュリーのリボンは御札ではなく、魔法力を高め
  るためのアクセサリです。

   本物の魔女なので、魔法力は恐ろしいものがあります。ただ、生ま
  れつきの喘息のためスペルが唱えきれません。ビタミンAも足りてな
  いようです。
   もしかしたら、窓の無い図書室が埃っぽいのかも知れません。いや
  普通に考えたら埃っぽいです。でも彼女は、本の近くにいるものこそ
  が自分だと思っているため、本のそばから離れることが出来ません。
  100年くらい。


The Girl of Knowledge and Shadow
Patchouli Knowledge

Ability: the power to control fire, water, wood, earth, metal, sun, and moon

The 4th stage boss. She is the friend of the young mistress and is a witch who has lived for 100 years. The "One-week Girl".

Her weak constitution makes her poor at physical combat, but she makes up for for that with her sheer variety of magical attacks. Patchouli's ribbon is not a holy charm, but rather an accessory that boosts magic power.

Since she's a genuine witch, her magical power is terrifying. However, because of the asthma she was born with, she often cannot recite the spells. She also seems to have a vitamin A deficiency.

Maybe her windowless library room is dusty. No, obviously, it's very dusty. But, since she spends all her time near books she considers them a part of herself, and cannot stand to be separated from them. This is how she has spent about a hundred years.
Immaterial and Missing Power - 上海アリス通信.txt
編集
 ○動かない大図書館
  パチュリー・ノーレッジ

  種族:魔女
  住処:紅魔館
  能力:魔法(主に精霊魔法)を扱う程度の能力

   紅魔館に住み着く魔女。この家の主人とは異なり、日光には弱くない
  が余り出歩かない。生活している図書館も日光が届かない所にある。こ
  れは本が傷まない様にする為の配慮であるが、空気は良くない為、健康
  に良くない。

   性格も積極的な方ではなく、常に我が道を行く。ただ、好奇心は高く
  知識に関しては積極的に取り入れる。全て本に依る物だが間違いも多い。

   器用さは持ち合わせているが、いかんせん非力な上に体術の心得は全
  くない。直接殴ったり蹴ったりは殆どしない。その代わり強力で多彩な
  魔法を会得している。殴るくらいなら魔法を使った方が楽である。曜日
  にあわせて魔法を使い分けるのが密かな趣味であるが、誰もその事には
  気が付かない。


The Unmoving Great Library, Patchouli Knowledge
Species: Witch
Residence: Scarlet Devil Mansion
Ability: The ability to use magic (mainly elemental magic)

A witch who has settled down in the Scarlet Devil Mansion. Unlike the mistress of the house, she is not weak against sunlight; however, she does not go out much. She spends her days in a library where the sunlight cannot reach. This is so that the books won't be damaged, but the unhealthy atmosphere is bad for her health.

She doesn't have a very proactive personality, but rather always walks her own path. However, she is always interested where knowledge is concerned and will proactively go and try to acquire it. She does everything by the book, but still makes a lot of mistakes.

Although she is quite skillful, her complete lack of physical fighting ability can't be helped. She pretty much never attempts to directly punch or kick her opponent. She makes up for this with her knowledge of a great variety of powerful magic. She's more at ease using magic than trying to attack physically. Dividing the magic she uses according to the days of the week is a secret hobby of hers, but no one has realized this.
 ○動かない大図書館
  パチュリー・ノーレッジ


  種族:魔女

  職業:魔女

  住家:紅魔館

  能力:魔法(主に精霊魔法)を扱う程度の能力

  性格:口数も少なめで暗い。

      暗いといっても、ただ愛想が悪いだけで思考は暗くない。

The Unmoving Great Library
Patchouli Knowledge


Race: Witch.

Occupation: Witch.

Place of residence: Scarlet Devil Manor.

Ability: The power to use magic (primarily elemental magic).

Personality: Dark and taciturn.

Dark just means she doesn't interact well with others - it's not a reflection of her outlook.
 ○動かない大図書館
  パチュリー・ノーレッジ
  Patchouli Knowledge

  種族:魔法使い
  能力:魔法を使う程度の能力

  紅魔館に住んでいる魔法使い。

  間欠泉から大量の地霊達が湧いている事に気付いた。
  よく調べてみるとその地霊達とは、見た目は幽霊とそっくりだがちょっ
  と違う怨霊だったのである。
  怨霊は幽霊と違い世の中を怨んでいる霊である。人間や妖精、妖怪達に
  害をなす者であった。

  自分はじっくり怨霊が載っている本を探したいのだが、まず誰かに間欠
  泉の調査をさせなければ危ない。
  困ったパチュリーは紫に相談した。紫も驚いた様子で、人間達を地底に
  向かわす策を考え出したのである。

The Great Unmoving Library
Patchouli Knowledge

Species: magician
Ability: power to use magic

A magician that lives in the Scarlet Devil Manor.

She noticed the great number of earth spirits that came from the geyser. On further investigation, they turned out not to be earth spirits, but evil spirits that looked just like phantoms. These evil spirits were spirits that bore a grudge against the world. They were a threat to humans, youkai, and fairies alike.

She wanted to find out what was causing the evil spirits to appear, but going herself would have been quite dangerous. Troubled, Patchouli went to see Yukari. Yukari, who was also surprised by the incident, came up with a plan to make the humans go explore the underground.
Book Synopsis
編集
Bohemian Archive in Japanese Red
編集
Main article: Article and Interview: Patchouli
A Setsubun (Hot-Bean-Throwing) Festival has been staged at the Scarlet Devil Mansion, revealed to have been set up by Patchouli. Upon being questioned regarding this strange festival, amidst the chaos of the Mansion's staff, Patchouli seems to think it ridiculous that Aya would call it "out-of-season"; Patchouli regards the festival as a means of Strengthening the Mansion against the Oni. When asked why, she simply responds that it never hurts to be prepared.
At an unspecified later date, Aya interviews Patchouli in her library, and the two have a relatively pointless conversation regarding the festival until Aya asks if any Oni have been spotted. Patchouli then discusses the Oni with Aya, addressing their weaknesses, and explains the significance of Setsubun in relation to the Oni.
She ends the interview on a note of her own weakness, stating that she hates the sun as it damages her books and messes up her hair.
Perfect Memento in Strict Sense
編集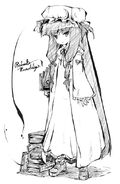 Main article: Perfect Memento: Patchouli Knowledge
Patchouli is a magician known as the brain of the Scarlet Devil Mansion.
It is said that she both creates and solves problems in the Mansion.
Patchouli is a natural magician who has lived for over a hundred years, most of which she has spent transcribing spells in the library.
As she is a magician, she uses magic often. Her specialty is elemental magic employing the seven elements Earth, Water, Fire, Wind, Metal, Sun and Moon. In addition, she can combine the elements as well.
Her books aren't just spell collections, but magical items with magic imbued in them.
However, one can only cast a spell from a book if they have equal or stronger magical abilities than the one who wrote the spell in the book.
There are far more books in her library than one could ever hope to read.
To defeat Patchouli, one must to pay attention to what elements she is using.
However, as she is asthmatic and never leaves the mansion, battles with her are rare.
The Grimoire of Marisa
編集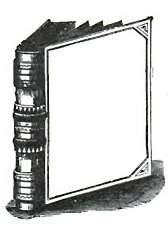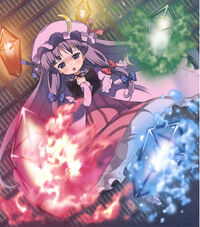 特に記載のない限り、コミュニティのコンテンツは
CC-BY-SA
ライセンスの下で利用可能です。